Little is known about the new Hungarian Ambassador to Ottawa; she keeps her cards close to her chest.  To be honest, I was surprised to learn that she got the job, a fairly important diplomatic assignment.  I have a feeling that she was also surprised.
Ambassador Vass-Salazar is in her late 40s, married, has two girls and had numerous diplomatic assignments under Hungary's Socialist government prior to the Orbán-regime.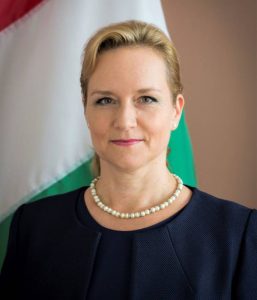 According to her official biography she has been a career diplomat for more than two decades. Prior to coming to Canada, she was head of the department for Northern Europe, overseeing bilateral relations with 13 European countries. Previously, she headed the science diplomacy department to promote Hungarian science, technology and innovation internationally.
Between 2011 and 2016, she served as deputy head of mission in London.  Under the Gyurcsány government she was posted to Washington, D.C., as political counsellor and she also served for one year as a Hungarian transatlantic diplomatic fellow at the U.S. State Department.  Vass-Salazar was head of section for NATO affairs and was a political officer to the Hungarian delegation when Hungary joined the NATO alliance in 1999.
The Ambassador earned a PhD in international relations from Corvinus University Budapest in 2002 and a master's in history from Eötvös Loránd University in 1996.
Two interesting facts about Vass-Salazar:
In February 2020 she was named Ambassador to Slovenia and supposed to travel to Ljubjana.  Three months later her appointment was withdrawn and she was named Ambassador to Ottawa.  It is not clear what happened but there are numerous Hungarian newspaper articles about the chaotic decision making process of Foreign Minister Péter Szijjártó.
The Ambassador's husband is not Hungarian. His name is Edward Joseph Salazar and he is with her in Ottawa.  The Ambassador does not publish photos about her family and her husband is not accompanying her to official events.
The Orbán government is openly lobbying against "mixed marriages" and I find it refreshing that Vass-Salazar brings the much needed multicultural flavor to Hungarian diplomacy.
It seems that Vass-Salazar does not promote loudly Orbán's über-nationalist propaganda and more subdued than her predecessor, ex-Ambassador Bálint Ódor.  Recently she hosted an online screening of Hungarian films to celebrate Budapest as one of the hosts of the 60th European Soccer Championship, UEFA EURO 2020.
She plays it safe, everybody loves soccer…
György Lázár