As part of our series on lesser known Hungarian Americans, we introduce Charles Puffy, the oversized silent-film-era comedian who became popular in the US in the 1920s.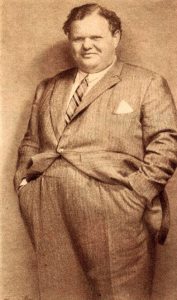 Charles Puffy was 40 years old when he arrived to the US in 1924 and soon became a household name.  Although he barely spoke any English, he frequently appeared in US tabloids and journalists followed him everywhere.  He even advertised the Hupmobile, a large sedan made by the Hupp Motor Car Company of Detroit.
Puffy was a silent film star, a comedian and a master of physical, slapstick comedy.  A very large man who weighted over 300 pounds, his ferocious appetite and neck size of 21 inches were part of his comedy routine.  Puffy reminded many to Oliver Hardy from one of Laurel and Hardy.
It was no secret that Charlie was Hungarian. He had an unmistakable thick Hungarian accent and was very proud of his birth country.
Using the name Pufi Hussar he already had a successful film and stage career in Europe before coming to the US.  Appearing in films in Hungary, Austria and Germany, he also worked with heavyweights like Fritz Lang and Max Reinhardt.
Carl Laemmle, the Los Angeles movie producer, saw Puffy's comedy act in Germany and convinced him to come to Hollywood. Universal Pictures immediately offered him a contract.  Between 1914 and 1938 Puffy acted in 134 films.  With the introduction of "talkies" his lucrative film contracts started to dwindle and Puffy, under his Hungarian stage name as Huszár Pufi,  retired in his palatial estate north of Budapest at the Danube-bend in the village of Verőce.  The actor and his wife had many friends, among them the writer, Frigyes Karinthy.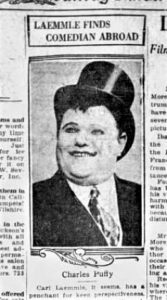 Puffy's real birth name was Károly Hochstadt and he had Jewish ancestry.  In 1938 Hungary passed its first anti-Jewish racial law modeled on Germany's Nuremberg Laws.  Soon newspapers started to attack the actor and since he knew how Jews were treated in Germany, Puffy expected the worst in his birth country.  In 1941 he and his wife decided to give up everything and return to America.
Their plan was to travel via the Trans-Siberian Railway to Vladivostok and board a Japanese ship to Los Angeles. The escape route had worked before for many European refugees.
His timing and the sequence of events turned out to be tragic.  In 1941 Horthy's Hungary attacked the Soviet Union and later declared war on the US.  While traveling in the Soviet Union, Puffy, a Hungarian citizen became an official "enemy alien."  Also, by the summer of 1941 it was impossible to travel to Los Angeles via Japan.
Puffy ended up in Karaganda (Qaraghandy), Kazakhstan in a Soviet labor camp.  Foreign "enemy aliens," among them European Jews, were interned there. The camp was built in the 1930s when German and Austrian citizens fearing Nazi persecution fled into the Baltic States.  After the Soviets occupied the Baltics they sent "enemy aliens" to Karaganda.  The conditions were harsh and many perished. In 1942 at the age of 59 he died of diphtheria.
There are many unanswered questions about his last years.  During his internment many Polish refugees were able to reach Shanghai via the same route.  It seems that Puffy's misfortune was that he travelled with a Hungarian passport as a citizen of the very country he tried to escape from.
Enemy aliens had a similar fate in the United States.   Shamefully, many Japanese, German and Italian citizens were deported to internment camps during WWII.
(András Gervai wrote an excellent and well-researched Hungarian language article about the tragic life of Puffy published in Élet és Irodalom.  Click here to read it.)
György Lázár