The 106-acre Sándor Sík Hungarian Scout Park is in upstate New York, close to Fillmore, in Allegany County.  It was founded as a campground and training center in 1964 by the Hungarian Scout Association in Exteris. "With its gently hilly slopes and meadows, firs and a variety of other trees, it is an ideal location for camping," says the official description.  The site can accommodate for up to 800 campers, it has a kitchen, a dining area, infirmary and six wells. In winter within 10-15 miles of the park there are ski resorts and Letchworth State Park is also close by.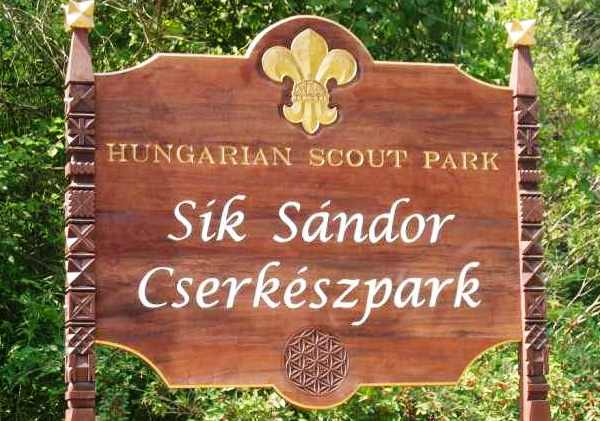 The park was named after one of the icons of Hungarian Scouting, the Piarist priest and poet, Sándor Sík. It is rarely mentioned that he was born to a prominent Jewish family and his beloved brother, Endre, was one of key figures of the Hungarian Communist movement.
Sándor Sík was born in 1889 in Budapest.  His father hailed from Pozsony (Bratislava, Slovakia today) and his mother Flora Etelka Winternitz, from Miskolc.  The couple converted to Christianity and practiced the Catholic faith before the birth of their five children.
Their oldest, Sándor joined the Piarist Order.  He loved poetry and taught Hungarian language and literature at the High School of the Piarist Order in Budapest.  Later the popular Catholic poet was named professor of literature at the University of Szeged in 1929.
The Szeged University was somewhat "liberal" in conservative Hungary. Nobel Prize winning biochemist, Albert Szent-Györgyi was the "star" of the University.  He later became active in the antifascist resistance during World War II. One of Sík's students was the poet Miklós Radnóti who converted to Catholicism in 1943 and was brutally murdered by Hungarian fascists.  According to Hungarian Jewish laws, Sík was also considered Jewish but avoided death by obtaining a special exemption.
After WWII in 1947, Sándor became the leader of the Piarist Order in Hungary and as vicarius provincialis he maintained cordial relations with the Communist regime.   His antifascist credentials and contacts with Communist leaders helped the Order.  During the nationalization of Church's real estate he was able to save several institutions in Budapest and Kecskemét.
Sándor Sík was highly regarded as a poet and literary scholar and received the prestigious Kossuth prize in 1948.  He published several volumes of poetry.
Sándor's younger brother, Endre's life took a different turn. During WWI as a soldier in the Austro-Hungarian army he was captured in Russia and became a Communist in the POW camp.  Endre decided to stay in the Soviet Union where he became a professor of African history.  In 1945 he gave up his academic job at Moscow State University and the 55-year-old returned to Hungary.   As the "architect" of Communist Hungary's foreign policy, Endre served as ambassador to Washington, deputy foreign minister and foreign minister between 1958 and 1961.   He was a trusted advisor of János Kádár.
In 1961, at age 70, he retired; he died in Budapest in 1978.
The two brothers, Sándor, the head of the Piarist order and Endre, one of Hungary's top Communists, were very close.  In fact in 1963 at Sándor's burial Hungary's Communist top brass and leaders of the Hungarian Catholic Church mourned together.
Sándor Sík was also a lifelong scout, one of the founders of the Hungarian Scout movement and wrote the Hungarian Hymn of the Scouts.  In the 1920s Scouting was considered secular and progressive.  Jews participated until 1940 when the Horthy regime's anti-Jewish laws revoked their membership.
The high point of Hungarian scouting was the 4th World Scout Jamboree in 1933.  It was held in Gödöllő where 25,000 Scouts represented 46 nations.  Regent Miklós Horthy opened the event and ex-Prime Minister Count Pál Teleki was the Commander of the Camp.
It is ironic that today Hungarian Scouting is more popular in North America than in Hungary.  After the fall of Communism, it has never regained its old glory.
György Lázár