As part of our series on lesser known Hungarian Americans we introduce Béla Kornitzer, the influential biographer and journalist.
Béla Kornitzer was born in 1910 and as a young man he became a star newspaper reporter in Budapest.  When only in his twenties, he was already a respected Parliament reporter who befriended politicians, aristocrats and hobnobbed with the Hungarian elite.
In 1940 he published a successful interview series of famous and often autocratic fathers and their sons entitled Apák és Fiúk (Fathers and Sons.)  The preface to the series was written by Archduke Joseph Francis of the House of Habsburg and it included interviews with Miklós Horthy, several members of the Habsburg family, the writer Zsigmond Móricz and Prime Ministers Gyula Gömbös and Sándor Wekerle.
Using his connections Kornitzer was able to circumvent the brutal Jewish Laws.  With help from Papal Nuncio Msgr. Angelo Rotta he survived WWII and also helped other Jewish families.
After the war Kornitzer had a brief career as a minor government official supporting his mentor, Minister Gábor Faragho.  Faragho led a delegation to Moscow in September 1944 to negotiate armistice with Stalin.
In 1947 at the age of 37, he left Hungary and was able to immigrate to the US.  Kornitzer didn't speak a word of English and later claimed that he learned the language by going to the movies. "Very fine teachers I had," he remarked, "Betty Grable, Humphrey Bogart and Jimmy Cagney."
Soon he started to write magazine articles and later interviewed Albert Einstein and President Harry Truman.  Using his old formula he published "American Fathers and Sons" of 14 biographical sketches of famous Americans.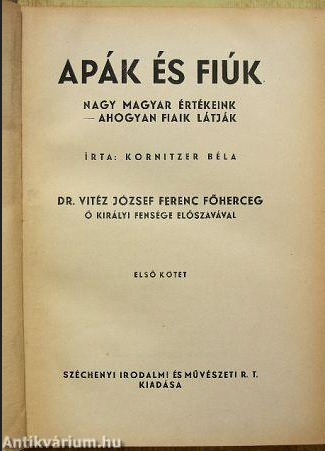 But his real breakthrough came in 1955 with publishing "The Great American Heritage," the story of the five Eisenhower brothers.  In 1960 another best-seller "The Real Nixon," a biography of Richard Nixon.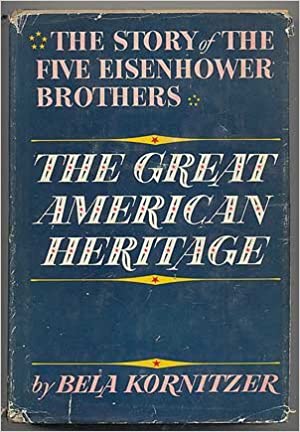 Kornitzer was well connected and used his influence with the Kennedys to secure a visa for Katalin Karády, the famous Hungarian actress who was unable to enter the United States from Brazil.
The FBI also investigated Kornitzer and considered him a "name-dropper," a "smooth-talking, tricky individual."   When he attempted to arrange interviews with FBI officials, agents warned that he would use a contact with the Director "to his advantage to meet other individuals."
Kornitzer died prematurely in 1963 in New York, he was 53 years old.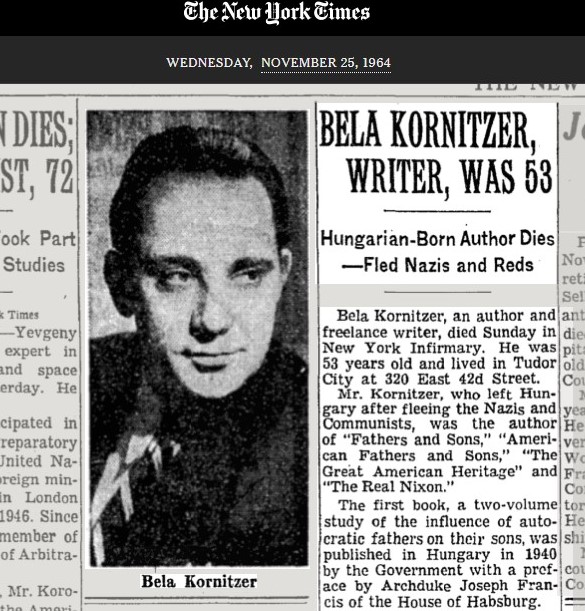 György Lázár