(This is the last of a three-part series on Iván Héjjas the leader of the Ragged Guard)
Héjjas's brutality had become an embarrassment to Horthy by the summer of 1920, so the government ordered the dissolution of his detachment.  Héjjas took his men to the western part of Hungary, Burgenland, where he engaged Austrian troops and, with the forces of Prónay, forced a plebiscite that returned Sopron to Hungary the following year.  This is the reason for the new adoration of the Hungarian nationalistic government for the leaders of the Ragged Guard.
Horthy was cozy with Héjjas most of his political life.  He was indebted to Héjjas for providing a large number of troops when he formed his national army in Szeged.  He applauded the success of the Ragged Guard in gaining the return of a portion of Hungary.  When legal proceedings were started against him for his atrocities, Horthy intervened and pardoned him.
In the early 1920's Héjjas became one of the founders of the ultra-nationalist anti-Semitic party that was a precursor of the fascist Arrow Cross.  Horthy honored him and his brother with a knightly decoration Vitézi Rend in 1929.  Héjjas helped with the election of Horthy's son Istvan as Deputy Regent.  Horthy returned the favor by appointing him Chief Inspector of Civilian Aviation.
In 1939 Horthy authorized him to form the Ragged Guard again to fight the Czechs to protect the territory Hitler returned to Hungary. Héjjas fought against the Soviets until the end of the war. He retreated to Austria and eventually escaped to Spain.
In 1947 he was put on trial in absentia and was convicted of 74 murders.  He died in 1950 in Vigo, Spain, according to rumors, poisoned by a prostitute whom he had abused.
His brothers and sisters sought refuge in the United States and were active in the Hungarian community. Domonkos spoke to them. He found out that they had brought his remains to Hollywood and buried them next to family members, identifying him by his Spanish alias, Padre Esteban.
On a recent trip with my students to the tombstones of famous actors we visited Valhalla Cemetery, the final resting place of Oliver Hardy, Mae Clarke, Charlie Chaplin's wife Lita Grey, famed stuntman Yakima Canutt.  Close to the entrance we walked by a group of tombstones with the name Héjjas engraved upon them.  Separated only by a few feet we found the name Padre Esteban.  But someone had figured out whose remains lay beneath.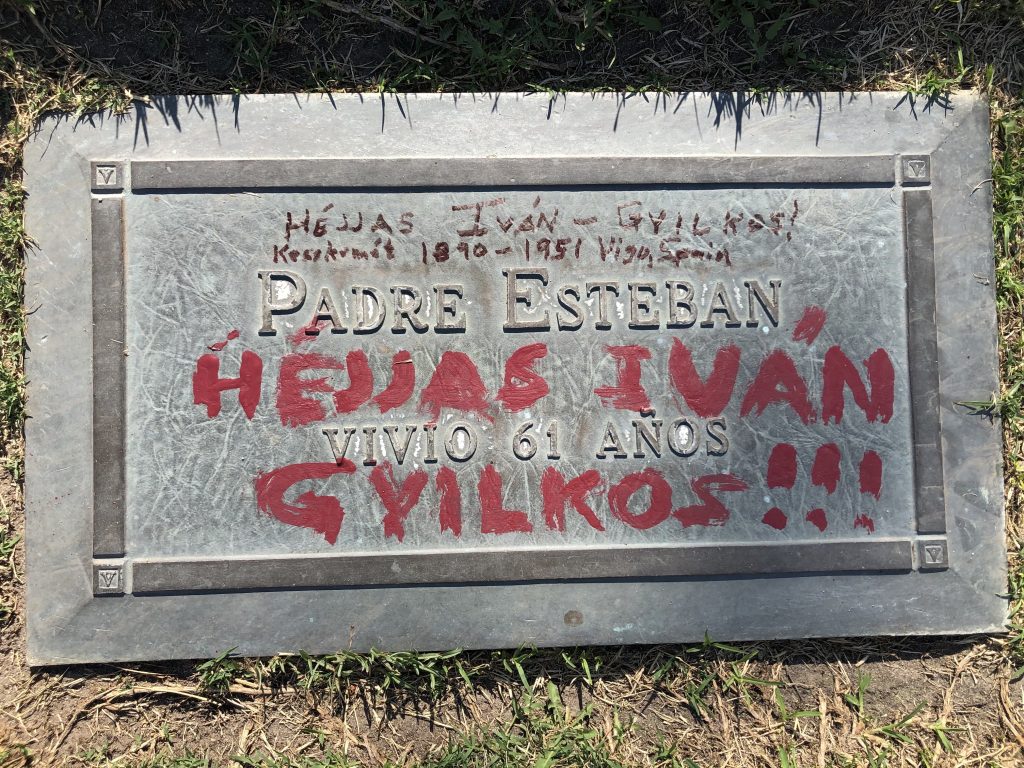 From Horthy to Hollywood—who would have thought?  And that Americans would remember his crimes a hundred years later.
Steven Kovacs