A 66-year-old Republican, Agnes Gibboney is running for the Congressional seat in District 31, Rancho Cucamonga, California.  Gibboney is an Angel Mom who supports President Trump and has appeared with the President on several occasions. (Angel Moms: a group of mothers whose child was killed by an undocumented immigrant.)
Gibboney speaks Hungarian and travelled to Budapest to appear on Zsolt Bayer's show, Mélymagyar and she is a frequent guest on Sebastian Gorka's shows. (Mr. Gorka was fired by President Trump after wearing the insignia of a far-right Vitézi Rend; Mr. Bayer was noted by the US State Department annual report for his anti-Semitic outbursts.)  (Watch Gibboney's appearance on the Bayer show below or by clicking here.)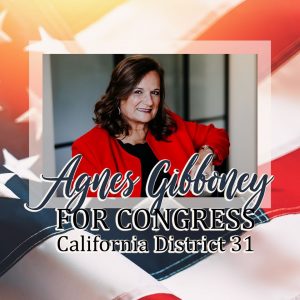 Gibboney was born Ágnes Stehli in Budapest and after the failed 1956 Hungarian Revolution she fled with her parents to Yugoslavia and later to Brazil.  In 1970 the teenage Agnes legally immigrated to the US with her family.  She married Joao da Silva and had her first child in 1973, Ronald da Silva.  Later she divorced and married her current husband, Mark Gibboney.
In April 2002 her 29-year-old son, Ronald was murdered by an undocumented Mexican gang member in front of his home.  The murderer, Luis Humberto Gonzalez (gang name Valencia) was convicted.   After completing his prison term Gonzalez was released from California State Prison and deported.
Gibboney claims that many US politicians are putting the rights of illegal immigrants' first and US citizens second.   In her Congressional testimony she stated: "If our borders would have been secured, Ronald would still be here, along with thousands of innocent victims killed by illegal aliens. Many criminal illegal aliens deported return to our unsecured borders to continue victimizing American citizens. One life lost is one too many. We need a barrier, we need a wall, and more Border Patrol officers to protect us all."
Gibboney has also criticized California Governor Gavin Newsom for the coronavirus shutdowns. "The shutdown has caused our financial crisis. We have a spending problem and unsustainable debt. Open the economy, with precautions, let people go back to work. A welfare nation on borrowed money is not the solution. Low interest rates present an opportunity to refinance debt and save some money."
She also voiced strong opinion on California wildfires: "Overzealous environmental regulations, negligent utility practices and forest management and arsonists are to blame. Change those, increase law enforcement and firefighting staffing and equipment. Those affected need emergency aid and mortgage and rental relief as well as help with food and bills."
Gibboney talks about her family's escape from Hungary in this podcast.
Congressional District 31 is traditionally democrat and the 41-year-old Democratic Party incumbent, Pete Aguilar is the heavily favored candidate in the race.
Read more information about Gibboney's political positions on the Gibboney for Congress website here.
György Lázár