The Hungarian Free Press is excited and honoured to be a partner of a special live online discussion on a new book published by Montreal's Black Rose Books, namely The Forgotten Revolution — the 1919 Hungarian Republic of Councils. The book's editor is HFP contributor András Göllner. HFP's founding editor, Christopher Adam, contributed a chapter to this volume. For more information and to join this live online event, please see below.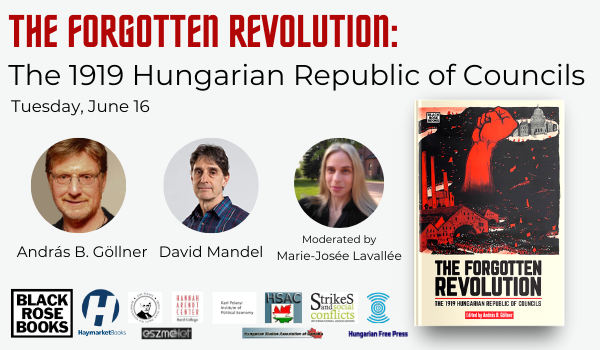 Tuesday, June 16, 1 pm EDT
(7 pm Budapest time)
A live stream discussion about The Forgotten Revolution and the Republic of Councils in Hungary in 1919 after the collapse of the Habsburg Empire.
Click here to register for a free or by donation ticket to the live stream event.
The 1919 rebellion by the Habsburg Empire's Hungarian subjects—millions of working men and women—has not been treated kindly by historians over the past century for fear that full disclosure of its true dimensions may spark a repeat performance on a global scale, bringing both capitalism and socialism as we know them to their knees.
This is how a prominent member of the American delegation at the Paris Peace Conference of 1919 put it diplomatically: "if the troubles in Hungary spread, they'll make wastepaper of our conventions" (Margaret MacMillan in Paris 1919: Six Months that Changed the World).
As for the Soviet Union? Virtually the entire leadership of the 1919 Hungarian Republic of Councils that fled from Budapest on August 1st, 1919, seeking refuge in the Soviet Union, was executed on the orders of the Soviet Communist leader, Joseph Stalin. In anticipation of the forthcoming book The Forgotten Revolution (Edited by Concordia University Political Economist András B. Göllner), this event will set the historical record straight on the heroic but tragic events of 1919 by paying tribute to the working women and men who, a century ago, gave their lives to an idea that refuses to die.
This global live stream discussion will take place on June 16, 2020, to honour the memory of Imre Nagy, who was executed on that day 62 years earlier in Budapest. Nagy was killed because he refused to disown the revolutionary spirit of the Hungarian working classes and supported workers' councils as a legitimate form of workers' self-management.
Black Rose Books and its partners believe that working men and women have an inalienable right to control their own lives and salute their struggle for justice, equality under the law, and ecologically sustainable economic development.
*****
*****
András B. Göllner is a Hungarian born Canadian Political-Economist (PhD, The London School of Economics). One of the Founders of Concordia University's School of Community and Public Affairs, he is now an Emeritus Associate Professor of Political Science at Concordia and an active civil-rights advocate. He was the Founder of the Montreal based civil-rights advocacy group, the Canadian-Hungarian Democratic Charter in 2011. Dr. Göllner is the author/editor of five books, including Social Change and Corporate Strategy (Stamford. IAP 1983) and Ilona: Portrait of a Revolutionary (2020, forthcoming). Göllner's writings have appeared in numerous scholarly journals as well as in the mass and online media in Europe and North America, including Hungarian Cultural Studies, The Journal of Parliamentary Law and Politics, The Los Angeles Times, The Huffington Post, The National Post, Social Europe, Élet és Irodalom (Life and Literature) etc., His current research focuses on the political language of cyber-capitalism.
Marie-Josée Lavallée is a Quebecoise Historian and Political Philosopher (PhD Université de Montréal) who teaches in the Department of History of the Université de Montréal. Among her most recent publications is a book on Hannah Arendt (Lire Platon avec Hannah Arendt: Pensée, politique, totalitarisme, PUM, 2018) and a chapter "October and the Prospects for Revolution. The Views of Arendt, Adorno, and Marcuse", in The Russian Revolution as Ideal and Practice: Failures, Legacies, and the Future of Revolution (Palgrave Macmillan, 2019). She's currently writing a book on the political and intellectual history of the Austrian Revolution and preparing a collective volume on Western imperialism. The history, theory, and practices of democracy is the central thrust of her work.
David Mandel is co-founder of the School for Worker Democracy in Moscow. He teaches political science at the Université du Quebec à Montreal, where he is also active in the union and the political left.  He is author of several books including Labour after Communism: Auto Workers and their Unions in Russia, Ukraine and Belarus (2004, Black Rose Books), PERESTROIKA and the Soviet People: Rebirth of the Labour Movement (1991, Black Rose Books), and The Petrograd Workers and the Russian Revolution: February 1917-June 1918 (Haymarket Books, 2018).
*****
We want to sincerely thank our wonderful Partners! 
***
Send in your questions and comments for the speakers in YouTube's live stream chat or by email to jason@blackrosebooks.com.
You can view our most recent live stream here: Why Canada Doesn't Deserve a UN Security Council Seat.
For free and pay-what-you-can eBooks, please visit: payhip.com/BlackRoseBooks