First, we wish the best to the residents, caretakers and management of the Bethlen Communities in Ligonier, Pennsylvania, and we sincerely hope that the community will fare well with the virus epidemic.
On their Facebook page the Communities posted a Happy Easter greeting this year, yet the holiday was not a happy occasion.  On April 6 the organization announced that their Ligonier Gardens senior facility was infected; eight residents and five staff members tested positive for the Covid-19 virus.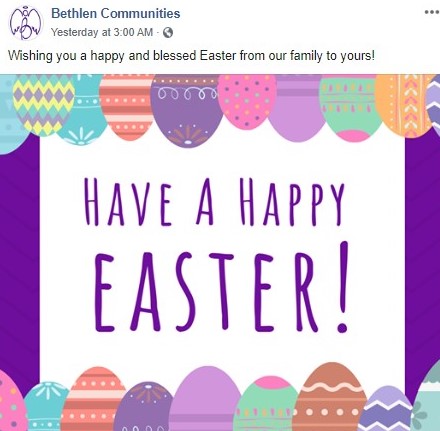 (Update. On April 15 Bethlen Communities announced that there are now nine Covid-19 cases among residents of Ligonier Gardens. Six Bethlen staff members, four of which work at Ligonier Gardens have also tested positive.)  (Read Covid-19 information at Bethlen Communities)
Bethlen operates two nursing homes in Pennsylvania called Ligonier Gardens and Bethlen Home.  Visitation is suspended and nonresidential facilities such as the Wellness Center are closed.
The history of the faith based Bethlen Communities is intriguing.  In 1921 Hungarian Americans purchased the Park Hotel overlooking Ligonier to establish an orphanage desperately needed after the Darr Coal Mine explosion killed many Hungarian immigrant miners.  Later, in 1924 they added housing for the elderly caregivers of the orphanage.  The organization is connected to the Calvinist tradition and pastoral care is provided for the organization by a Hungarian Reformed Pastor, currently Mr. Gabor Nitsch.
In the last couple of years the organization has developed close relations with the Orbán government.   Pastor Nitsch even received high Hungarian government award from Foreign Minister Péter Szijjártó.  Also, I was surprised to discover that Orbán loyalist and Hungarian Reformed Church in America bishop, Zoltán Lizik is a board member. (Read more about Bishop Lizik here)
The Hungarian Government also sent Hungarian taxpayer paid volunteers as part of the Kőrösi Csoma program to the facility.  Ms. Karola Török from Romania and Pastor Adrienn Kertész worked at the Bethlen Communities.
Last year the U.S. Department of Labor investigated and fined the Bethlen Communities for violating the Fair Labor Standards Act (FLSA). (Read Dept. of Labor statement)
At the time of this writing the State of Pennsylvania has lost close to 600 lives to the Covid-19 virus.
György Lázár