Mr. Zsolt Németh, a politician in Hungary's Fidesz party and leader of the Parliament's Foreign Affairs Committee has launched a bizarre attack against Republican Senator James Risch of Idaho.
Senator Risch recently criticized the erosion of democratic institutions in Hungary: "I am very concerned by today's news that Hungary will be indefinitely ruled by executive fiat. The Hungarian Parliament, controlled entirely by Prime Minister Orbán's Fidesz party, has granted Orbán's request to respond to the coronavirus outbreak with unquestioned power."   In his statement Senator Risch mistakenly claimed that Hungary had also suspended Parliament. (Read Risch's statement here)
Obviously, Mr. Németh has every right to correct the Senator's misstatement, yet I would also expect him to respond to the primary concern, which was Orbán's unprecedented power grab of unlimited power for an indefinite period. Instead, Németh claimed that the Senator had been "deliberately misled" by unnamed anti-Orbán political forces. He wrote: "At first glance it reads just like the hundreds of similar ones we have got used to seeing over the past ten years."
Németh's response is patronizing and insulting to the 76-year-old Senator. He writes that the Senator accepts "alternative realities" and has failed "to carry out basic fact-checking."   Németh accuses him of undermining President Trump's foreign policy with "especially unfortunate" comments that "overshadow" the "promising development" of Hungarian-US ties.  (Németh's response in Hungarian)
It might have escaped Mr. Németh's attention that the US Embassy in Budapest has also issued a similar statement expressing the US State Department's concerns:  "A government has no higher duty than the security and safety of its citizens. Any emergency measures taken should be targeted to address the COVID-19 crisis. Governments should ensure such powers are restricted to the period of time needed to address the current crisis and lifted as soon as they are no longer needed."
Mr. Németh is 56 years old, the son of a Protestant pastor.  In 1988 he was one of the founders of the Fidesz party and an early supporter of Orbán.  After a promising start, Mr. Németh's  political influence gradually diminished within the party, he failed to get a cabinet post and there is talk that he will be sidelined and "exiled" to an ambassadorial post.  His committee chairmanship is largely ceremonial without political weight and with this letter he is trying to play the role of a Fidesz "attack dog" hoping that the party will reward his public rudeness.
Mr. Németh is also wooing US Democrats.  He has ties to Ms. Katrina Lantos Swett, daughter of the late Congressman Tom Lantos, a Hungarian Holocaust survivor.  64-year-old Swett, a rare Mormon Democrat, was an Obama appointee and run unsuccessfully for both Senate and Congress.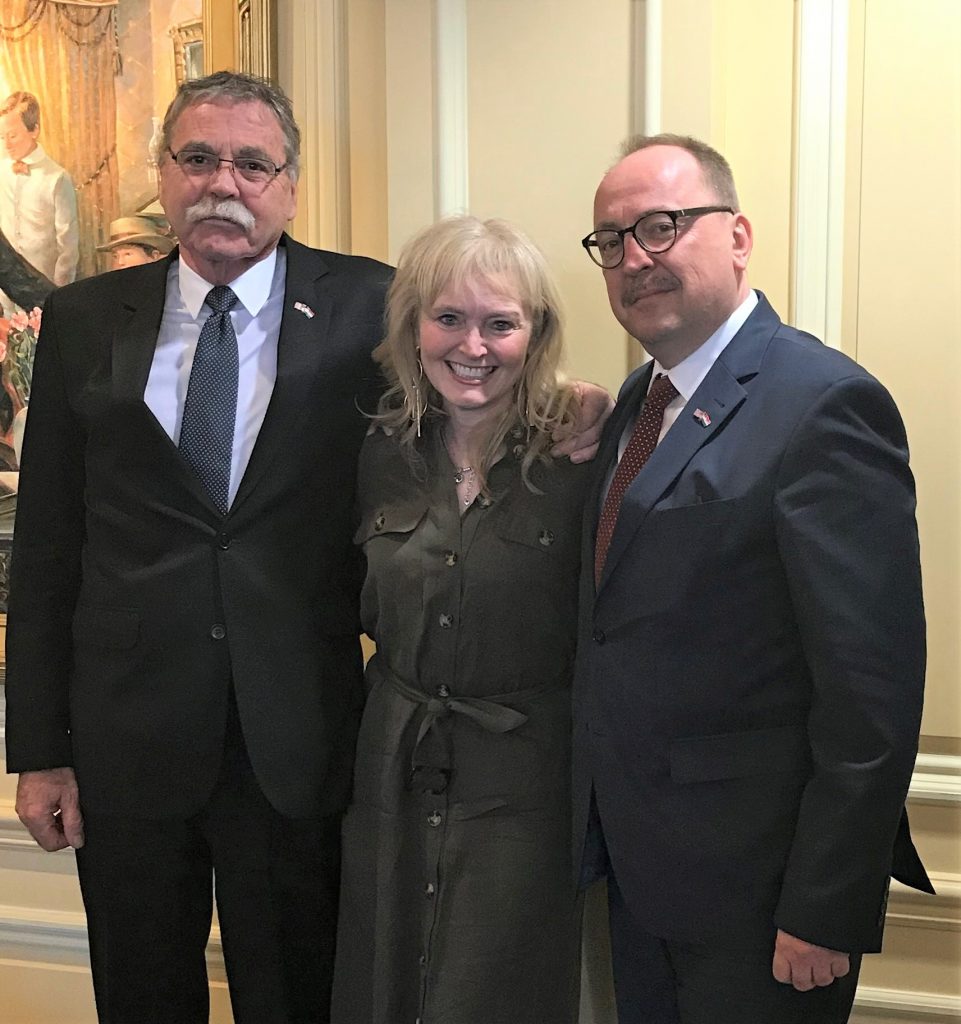 Ms. Katrina Lantos Swett (middle) and Mr. Zsolt Németh (right)
Mr. Németh has also waged a campaign to rehabilitate Mr. János Esterházy, an ethnic Hungarian Slovak politician who died in prison as a convicted WWII criminal.  Mr. Esterházy, a religious Catholic supporter of Hungarian ruler Miklós Horthy prayed for Hitler's victory against the Allies.
Mr. Németh's current attack on Senator Risch is not helpful.  It doesn't exhibit diplomatic finesse and it won't improve US-Hungarian ties. It is a fine example of unprofessional (and rude) political posturing.
György Lázár