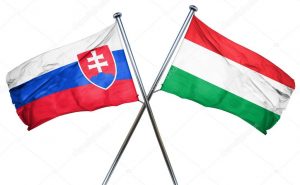 There are hundreds (possibly thousands) of stranded Hungarian citizens in the US, desperately trying to return to Budapest.  US airlines has suspended most transatlantic service and there is little hope that flights will be restored soon.
In the last couple of days Hungarian-language ads have appeared saying that "Slovakia" is organizing a non-stop charter flight on Wednesday, March 25 from Dulles Airport, Washington DC to Bratislava.  Stranded Hungarian citizens can also buy one-way tickets for 1,100 – 2,500 EUR depending on travel class.
The same info also appeared on the Hungarian Embassy website but the pricing information was later removed. (Read here)  "Slovakia" will consider charter flights from Florida and California also available to Hungarian citizens.
How can they fly to Bratislava when the airport is closed?  (See here)  Also, it was unusual that the prices were quoted in Euros and there wasn't any reference about the rescue mission on the website of the Embassy of Slovakia in Washington DC.   (Click here – Embassy of Slovakia website)
I asked the Embassy of Slovakia and received the following brief (and cryptic) note.
Dear Mr. György Lázár
The Embassy of the Slovak Republic in Washington is in close contact with Hungarian Embassy on this.
For more information, please contact directly them.
Best regards,
Consular Section
Embassy of the Slovak Republic to the United States of America
3523 International Court, NW| Washington, DC 20008| United States of America
Tel.: +1 (202)-237-105    cons.washington@mzv.sk
Well, numerous airlines and charter companies are accused of price gauging or fraud these days.  Stranded passengers are mercilessly exploited and suspicion is warranted.  (Read more about the price gauging)
It is reassuring that diplomats are working on this project.  At the same time, the Embassy of Hungary should give transparent and specific information about this flight.   Stranded and exhausted Hungarian citizens deserve better communication in these hard times.
We wish them good luck and safe return to Europe.
György Lázár
P.S. After finishing the article the ads of the Washington-Bratislava flight have disappeared. Proceed with extreme caution!