Eighty-two year-old Hungarian-born Ernie Konnyu (Könnyű) is contemplating a run for Congress in the 45th Congressional District, Orange County, California.  He is asking for help from the Hungarian American community.
We wrote about Mr. Konnyu in the past. As a Republican, he represented California's 12th congressional district from 1987 to 1988 but was not re-nominated by his party after sexual harassment allegations surfaced.   (Read HFP piece here)
Here is the full and unedited text of his unusual call for support.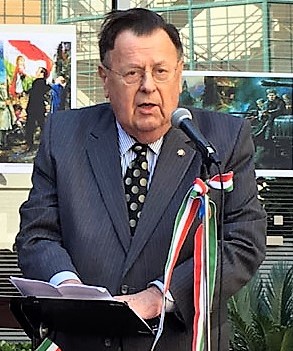 SEGITSUK KONNYU ERNOT!
PROMISING CONGRESSIONAL CAMPAIGN FOR CONGRESSMAN KONNYU IN ORANGE COUNTY'S CD45 IS ALIVE AND THRIVING-BREAKING NEWS
Back three decades ago President Reagan thanked Silicon Valley Congressman Ernie Konnyu with a handshake pic, a letter, and his pen for getting his proposed Welfare Reform law through the U.S. Congress. That's solid proof that Congressman Konnyu is effective and gets the job done for the people.
So it is not really surprising that a solid Republican like Congressman Konnyu polled superbly against a field of 7 candidates for Congress in Orange County's CD45 per the Adam Propolsky polling firm. Further, John Cox, the Republican gubernatorial nominee carried Orange County last year.
For the primary election poll in March 3 Konnyu polled 29% among 6 Republicans with the next closest at 6%. And in the general election poll for November Konnyu polled 46% against the Freshman incumbent Progressive Liberal Democrat Katie Porter's 49.5%. Pollster Adam Propolsky noted to Konnyu that Congresswoman Porter does NOT fit Orange County.
Konnyu's 46% against Porter was great considering that President Trump in the same CD45 poll received only 38% of the vote against Biden's 53%. While the Trump campaign is declining unless the Democrats nominate a Socialist like Bernie or a near Socialist like ultra-liberal corporation hating Senator Elizabeth Warren.
It's interesting to note that Congresswoman Katie Porter, a member of the far out Congressional Progressive Caucus, was a student of Senator Warren while attending Harvard Law and named one of her daughters after the Senator. Because of that connection, Congressman Konnyu jokingly threatened to use the Pocahantas nickname on Porter but withdrew the offer saying that we, Missourians, Konnyu's original home state, enjoy kidding the neighboring Iowans, Congresswoman Porter's home state.
Congresswoman Porter has already raised $1.6 million for her 2020 reelection while the top Republican fundraising candidate banked $621,000, Mayor Don Sedgwick, and two other Republican candidates, Peggy Huang an employee of notorious Trump hater Demo Attorney General Xavier Becerra and Colonel (Ret.) Greg Rath who has run twice before and have raised over $200,000 each. Of course Ernie can self-fund the startup of the campaign with a family limited $250,000 loan..
So the promising Orange County CD45 Congressional campaign for Congress by Congressman Konnyu is alive and needing strong support.
Let us go forward together and see where this Congressional race in CD45, Orange County, one of the few Republican plurality Congressional districts left in California, leads.
Ernie Konnyu (R-S​ilicon Valley​)
Former Member, U.S. Congress