On April 24, 2019 the New York State Department of Health in Albany, NY held a ceremony at the Wadsworth Center Biggs Laboratory to unveil a statue of Ignác Semmelweis to commemorate the 200th anniversary of the physician's birth. Semmelweis was one of the most influential (and unusual) physicians of the 19th century; his pioneer work of antiseptic procedures saved countless lives while he lost his mind fighting the medical establishment.
Ignác (Ignaz in German) Semmelweis was born in Buda, Hungarian Kingdom in 1818 in an ethnic German merchant family. At that time Buda and Pest were separate cities with a significant Hungarian-speaking German population.
Semmelweis studied at the University of Vienna where he received his doctorate in medicine in 1844. At the Vienna General Hospital he noticed that when midwives, not doctors, delivered babies the infection rates were lower. Doctors also performed autopsies. Semmelweis hypothesized that tiny particles from corpses were carried on doctor's hands to the women who would then develop puerperal fever.
The average maternal mortality rate in those days was well over 10% and by having physicians wash their hands with chlorinated lime solution Semmelweis was able to reduce it by 70%. He saved thousands of mothers and newborns.
Semmelweis published his observations without scientific explanation and successfully offended Vienna's medical establishment. The "unscientific" suggestion that doctors should wash hands before dealing with patients was mocked mercilessly. Doctors were especially offended when Semmelweis suggested that puerperal fever was rare among women giving street births while the mortality rate was high in Vienna's posh hospitals.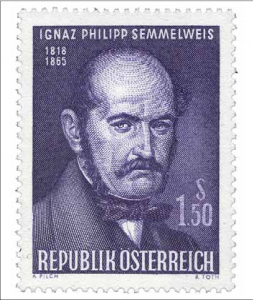 His lengthy battles with his colleagues took a toll on his mental health. Semmelweis was not politically astute; he was a stubborn who was unwilling to "play the game." His colleagues felt that it is impossible to work with him and at the end he was fired from his position. In 1865 Semmelweis suffered a nervous breakdown. He ended up in a Vienna asylum and died prematurely at age 47.
"This statue will serve as a reminder of a practice that is near and dear to public health: the simple, yet vital, act of handwashing to help prevent the spread of illness," said New York State Health Commissioner Dr. Howard Zucker. "We are honored to be among the recipients chosen for this display as we continue our efforts to encourage best practices for infection control."
I was surprised to learn that the Albany statue is one of 20 (!) that were gifted to international institutions by the Hungarian government. Hungary is a relatively poor country and I have a feeling that citizens there would resent that fact that statues are financed by the country's taxpayers when State hospitals today have no funds to buy toilet paper!