The Czech comedian, Vlasta Burian was born in 1891 in Reichenberg, Bohemia, Austria-Hungary (today Liberec, Czech Republic) as Josef Vlastimil Burian. He was funny as a child, a born entertainer, and later became a popular comedian in the newly formed Czechoslovakia. In 1925 he opened his theatre in Prague and started to make movies. The Undertaker and The Inspector General were comedy hits in the 1930s.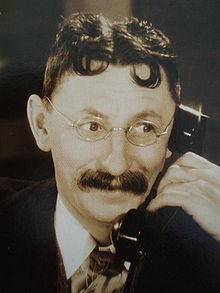 After Hitler occupied and dismantled Czechoslovakia Burian stayed in Prague and developed a cozy relationship with the occupying Nazis. His theatre shows sold out, his radio programs were popular. One show called "Hvězdy nad Baltimore" or The Stars over Baltimore was a pro-Nazi radio sketch that ridiculed the exiled Czechoslovak government in London. The antifascist resistance didn't find these jokes funny and after World War II Burian was charged as a Nazi collaborator and received a short prison sentence.
At the trial Burian testified that he was a comedian and also had purposefully sabotaged The Stars over Baltimore by ridiculing the occupying Germans. This was a weak defense in 1950s Communist Czechoslovakia. .
After his conviction Burian's career never recovered. He died in Prague in 1962 and in 1994 he was exonerated of the charges.
Burian did not speak Hungarian yet in his movie The Undertaker (1932) he gives a pseudo-Hungarian, gibberish but undeniably Hungarian sounding speech. It is hilarious. Enjoy.
György Lázár