Ralph Spencer was born in 1859 in Connecticut and became a businessman with interests in retail and oil. He is known as the chief developer of a small town in the State of Georgia called Tallapoosa.
Most of Spencer's businesses failed and his creditors often questioned his honesty. Some even considered him a swindler but he was never successfully prosecuted. On the contrary, in 1904 the New York Tribune profiled him among the "Prominent and Progressive Americans."
In 1888 the colorful businessman moved to Tallapoosa and founded the Georgia Fruit Growing and Winery Association. Spencer had a vision, he wanted to create a wine region and planted grapes on 2000 acres. Hungarian immigrants were recruited from the coal mines of Pennsylvania and since most of them were poor farmworkers in Hungary before immigrating they were happy to get back to agriculture.
The first fifty families established a community and named it Budapest. Each family was allotted 10 acres. More Hungarians arrived and founded another village called Nyitra and the surrounding hillsides were soon covered with vineyards.
All this changed in 1908 when Georgia's Governor Hoke Smith signed the state's Prohibition Act banning the manufacture, sale, barter, or giving away of alcoholic beverages. Local Protestants were long-time supporters of the alcohol ban on religious grounds, but the immediate reason of the Governor's action related to the bloody Atlanta race riots of 1906. White citizens in Atlanta unfairly blamed drunk blacks for starting the riot and pushed the Governor to ban alcohol in the entire state.
Needless to say that was the end of Georgia's wine business. The wineries went bankrupt and most of the Hungarian families moved back to Pennsylvania.
In 1988 a Historic Marker was placed next to US 78 west of Waco School Road. The text reads: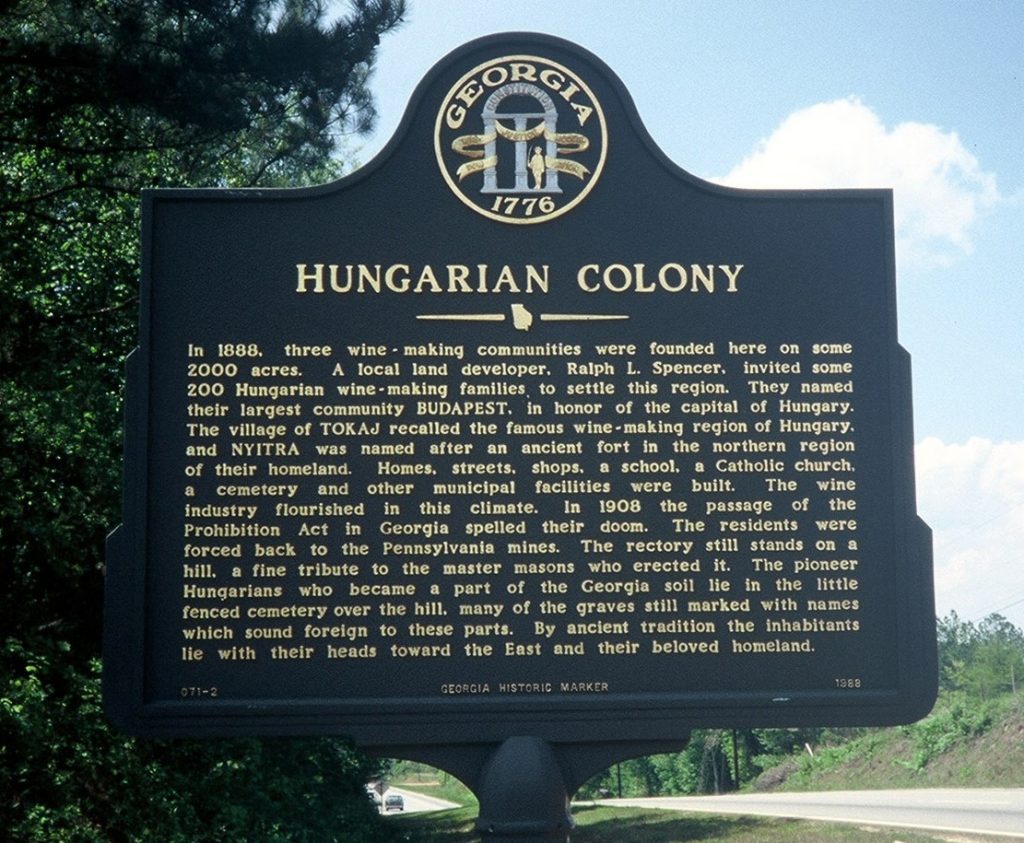 HUNGARIAN COLONY
In 1888, three wine-making communities were founded here on some 2000 acres. A local land developer, Ralph L. Spencer, invited some 200 Hungarian wine-making families to settle this region. They named their largest community BUDAPEST, in honor of the capital of Hungary. The village of TOKAJ recalled the famous wine-making region of Hungary, and NYITRA was named after an ancient fort in the northern region of their homeland. Homes, streets, shops, a school, a Catholic church, a cemetery and other municipal facilities were built. The wine industry flourished in this climate. In 1908 the passage of the Prohibition Act in Georgia spelled their doom. The residents were forced back to the Pennsylvania mines. The rectory still stands on a hill, a fine tribute to the master masons who erected it. The pioneer Hungarians who became a part of the Georgia soil lie in the little fenced cemetery over the hill, many of the graves still marked with names which sound foreign to these parts. By ancient tradition the inhabitants lie with their heads toward the East and their beloved homeland.
György Lázár