I wrote last year about the importance of August 20th, Hungary's National Holiday which is celebrated by Hungarians all over the world. (Read here.)
August 20th is St. Stephen's Day, when we remember Stephen I, the founder and first king of Hungary who ruled 1000-1038 and was canonized on August 20, 1083 by Pope Gregory VII. It has become an important Catholic holiday. But August 20th is not only a religious holiday. It is a harvest festival, the "Day of the New Bread," and in the past it was also known as Constitution Day. For most Hungarians it is a secular National Day.
It seems that the Orbán government wants to change this and turn August 20th into a religious holiday. To my surprise the Hungarian Embassy celebrated the day by organizing a Catholic event in Washington DC.
Festivities started at 11AM with communal prayer in the Sacred Heart of Mary Chapel at Marymount University in Arlington, VA. From there an eight-mile procession called, "Pilgrimage to the Basilica" led to the Basilica of the National Shrine of the Immaculate Conception in Washington DC.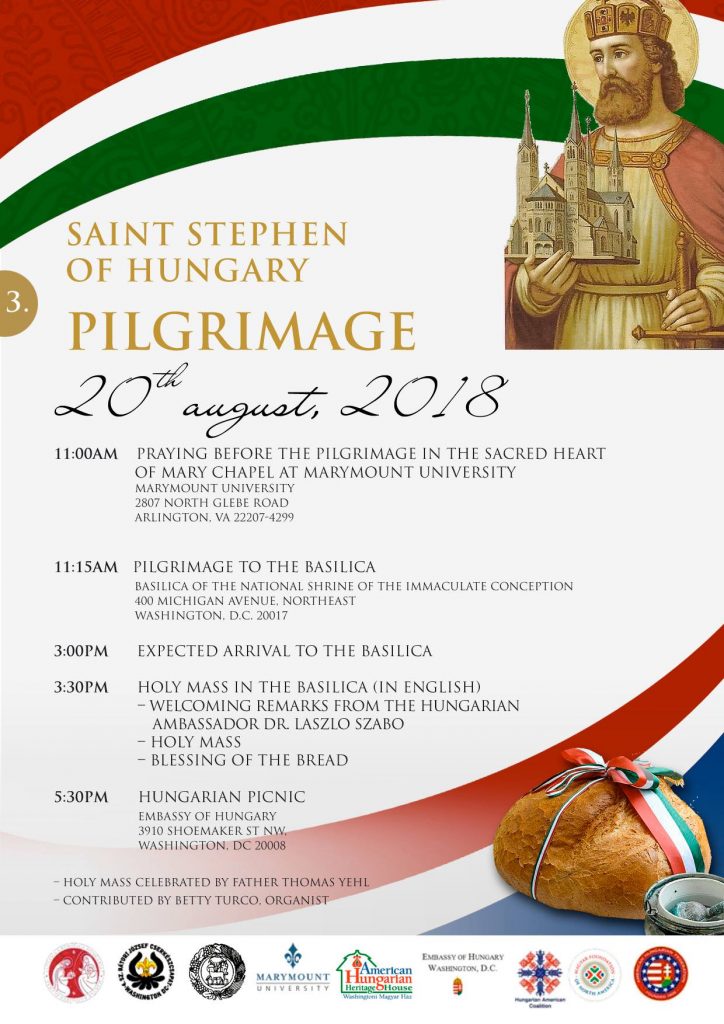 At 3:30PM there was an English-language "Hungary's National Day" Holy Mass and a speech by Ambassador László Szabó. Afterwards a Hungarian Picnic closed out the day at the Hungarian Embassy.
Church and State business are separated in the United States and it is inappropriate for the Ambassador to greet Americans of Hungarian heritage on a Mass at the Catholic Basilica.
Don't misunderstand me, August 20th is an important religious Holiday for Hungarians of the Catholic faith. And it is also true that the majority of Hungarians follow the Catholic faith. According to the 2011 census 39% of Hungarians were Catholics, 11.6% were Calvinists, 2.2% were Lutherans, around 2% followed other religions. Yet 16.7% were not religious, of which 1.5% were atheists. Other religions practiced in Hungary include Islam and Judaism.
Ambassador Szabó, who is a medical doctor without previous diplomatic experience, has to understand that he represents ALL Hungarians, Catholics and non-Catholics alike. Hungarian Christians, Atheists, Muslims and Jews all celebrate August 20th.
Please don't make this National Day a Catholic Holiday here in the United States. It excludes those who are not religious or do not follow Catholicism from celebrating this joyous Holiday.
György Lázár