A Freedom House report, out this week, categorizes Hungary as the least democratic member state of the European Union. The American conservative think tank, which has been critical of Viktor Orbán's rule before, argues that democracy faces its most serious challenge in decades and is in crisis in many parts of the world. "Its basic tenets—including guarantees of free and fair elections, the rights of minorities, freedom of the press, and the rule of law—came under attack around the world," notes the newly released report.
Critically, Freedom House still maintains that Hungary is in the camp of "free" countries, along with every other EU member state, Canada, the United States, Australia, New Zealand, South Africa, Brazil, Argentina and a handful of other nations. In contrast, Ukraine is considered to be only "partly free," while Russia and Turkey are "not free."
While Hungary may still be considered "free" by Freedom House standards, its aggregate score indicates that it is now the "least free" member state of the EU. Hungary's score is 72 out of 100 and this is based on ranking political rights,  civil liberties and press freedom. Freedom House considers Hungary's press to be only "partly free."
"Hungary received a downward trend arrow due to increasing intimidation of civil society groups and the opposition, which has left citizens more reluctant to speak out on political topics," writes Freedom House.
In contrast to Hungary's score of 72, let's take a look at neighbouring countries within the EU:
Austria: 94/100
Slovenia: 93/100
Slovakia: 89/100
Croatia: 86/100
Romania 84/100
The Czech Republic earned a score of 93 and Poland stands at 85. As such, Hungary is deemed significantly "less free" than any other East/Central European country or member of the Visegrad Group. Even Bulgaria scored higher than Hungary, with 80/100. Further afield, the Netherlands and Canada are deemed by Freedom House to be the world's two most democratic countries, both scoring 99 out of 100.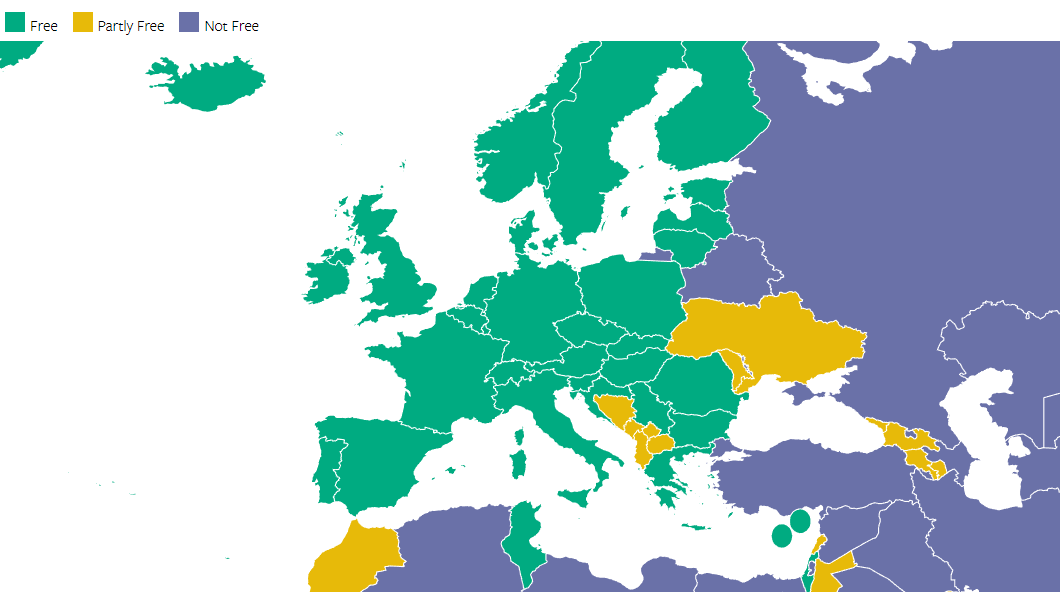 Zoltán Kovács, the spokesperson for the Hungarian government, accused Freedom House of bias, adding that the think tank's methodology is "politically motivated." Mr. Kovács then turned to his usual accusation against anyone or any group critical of his government: he accused the conservative think tank of being in the service of George Soros, who has "launched an open assault against Hungary."
On Tuesday, the ruling Fidesz party unanimously adopted a declaration in which it rejected "The Soros Plan," which it claims is hell-bent on turning Hungary into an "immigrant society." The declaration also charged that "the Soros network has immense influence" and uses Brussels to exert pressure on EU member states. Fidesz did this days after it became public that the government quietly accepted to settle some 1,300 refugees in Hungary–refugees that the government had previously demonized, maintained that they would never accept and alleged formed part of an international conspiracy to destroy the Hungarian nation.
On Monday, Bernadett Szél, leader of the Politics Can Be Different party (LMP), was expelled as a member of Parliament's National Security Committee, because they accused LMP of being "clearly affiliated with the Soros Network."
Increasingly, the Hungarian ruling party's orwellian obsession with Mr. Soros appears to be an example of self-parody.