The Szekler flag (Székely zászló) has become a fairly prevalent symbol in areas of Tranylvania with Hungarian-speaking majorities, particularly in the counties of Hargita, Kovászna and Maros. But Romania's central government has long held that this flag, seen as a symbol of Hungarian separatism, must not be flown on buildings that house public institutions or local government offices, thus including town halls, regional administration, courthouses, schools or other institutes. And this week, Romanian prime minister Mihai Tudose issued a surprising and not very prime ministerial threat. Speaking on Realitatea TV he said:
"If they hang the Szekler flag on institutions in Szeklerland, the people who fly these flags will hang as well. Autonomy for Szeklers is out of the question."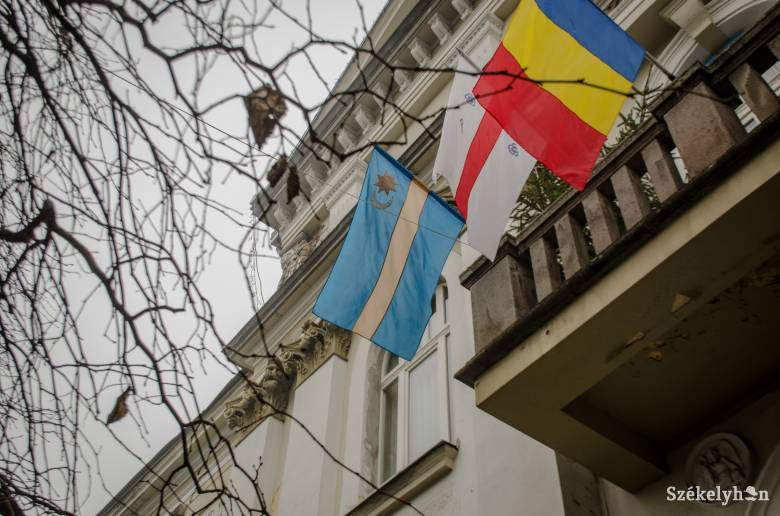 (The Szekler flag on the left as seen on the town hall of Csíkszereda (Miercurea Ciuc). The population here is 81% Hungarian.) 
Bálint Porcsalmi, acting president of the Democratic Alliance of Hungarians in Romania (RMDSZ), called the statement from the prime minister "primitive and reminiscent of the Middle Ages." He added: "the prime minister cannot send people to the gallows with whom he does not agree."
The ominous statement comes on the heals of RMDSZ calling on the government to launch a process of honest dialogue within society on autonomy. Recently, RMDSZ and two smaller Hungarian parties agreed to work together on consolidating their visions of autonomy in Translyvania. Regions where there are majority Hungarian populations would get territorial autonomy within Romania (similar to other examples of autonomy in EU member states, such as in Spain or South Tyrol, Austria). Hungarians living as a minority in other regions of Transylvania would receive what is called "cultural autonomy." There is also a proposal to empower municipal governments in towns where Hungarians form the majority.
In Hungarian-majority Szeklerland (Székelyföld), the Hungarian parties are demanding full equality of the Hungarian language with Romanian. In a piece of land along the Hungarian/Romanian border called Partium (an area not traditionally considered Tranyslvania, but rather part of the Great Hungarian Plain, and home to the town of Nagyvárad) the parties are calling for the creation of a fully bilingual (Romanian/Hungarian) civil service.
Implementing these proposals for autonomy will be a major uphill battle, as the Hungarian minority not only lacks support from any Romanian political party, but the country's constitution may not even allow for this. While the constitution does not outright prohibit regional autonomy, it does not permit for this to be constituted along ethnic lines.