Relations between Hungary and the United States have been bad for a long time and don't seem to be improving. In a recent interview Péter Szijjártó, Hungary's young and feisty foreign minister, has openly attacked the US Ambassador to Ukraine, Marie Yovanovitch, because of the US Embassy's response to a new educational law in Ukraine. (Read here in Hungarian.)
Péter Szijjártó is 38 years old and has a degree in sports management. He loves soccer, just like Prime Minister Viktor Orbán. Szijjártó served as spokesman for Orbán prior to being named the Foreign Affairs and Trade minister at the age of 35. He had no previous diplomatic experience.
Marie Yovanovitch is a 59-year-old career diplomat who has served under Republican and Democratic administrations. She is a Princeton graduate with 30 years' experience in Foreign Service. She was Ambassador to the Kyrgyz Republic, a foreign policy advisor, the undersecretary of state for political affairs and also completed various assignments in Ottawa, Moscow, London and Mogadishu.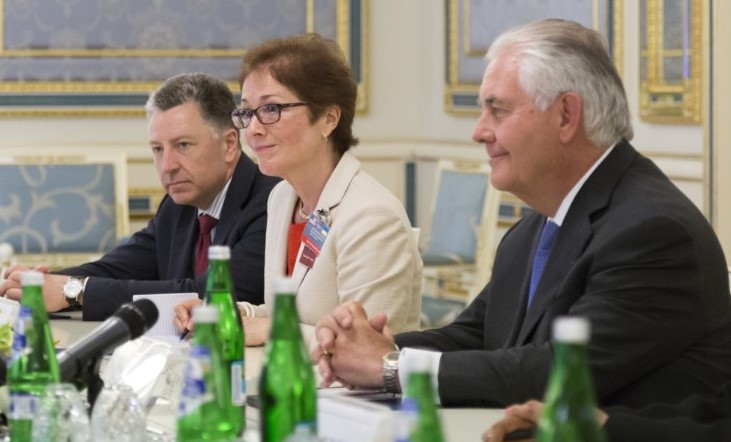 (Kurt Volker (left) US Envoy to Ukraine, Ambassador Marie Yovanovitch and US Secretary of State Rex Tillerson)
Now Mr. Szijjártó says that Ambassador Yovanovitch doesn't know what she is doing. Mr. Szijjártó was "shocked" that the Ambassador greeted the new law positively in a Twitter message. He says that she is misinformed and not familiar with the text of the law that specifies Ukrainian as the main language to be used in country's schools. He says that the Ambassador does not pay attention to details and that her behavior is symptomatic of the criticism the Orbán government receives from many foreign sources.

(US Embassy greets Ukraine's new education law)
Szijjártó has already summoned Ukraine's Ambassador to Hungary to express that the new law is "shameful and outrageous." "Hungary is going to withhold support for all Ukrainian initiatives in international organizations, as well as for causes important to that country," he thundered. Then he declared that it is Hungary's duty to protect all Hungarians, whether they live in the country or abroad.
The Orbán government has every right to use diplomatic measures to support its policies, but it is unwise to launch such a personal attack on a US Ambassador. And it is unacceptable to insult her by stating that she doesn't understand the text of Ukraine's educational law.
The US has policy goals in Ukraine and Ambassador Yovanovitch has represented them. Hungary's theatrical anti-Ukraine posturing indicates that the Orbán government is not working on a diplomatic solution.
David Kostelancik, the charge d'affaires at the U.S. Embassy in Budapest, has encouraged negotiations between Hungary and Ukraine to find a resolution. Foreign Minister Szijjártó's new attacks on Ambassador Yovanovitch are worrisome and won't help matters.
Hungary should replace Mr. Szijjártó with a seasoned diplomat soon.
György Lázár