July 9, 1944
Seventy-three years ago on this day the transport of Jews of Pécs, Bonyhád and vicinity arrived to Auschwitz and many were immediately murdered.
On July 9, 1944 11,140 Hungarian Jewish men, women and children were loaded onto transport wagons and sent to their death.
From Monor two trains with 3,065 and 3,079 Jews.
From Békásmegyer-Budakalász two trains with 3,072 and 1,924 Jews.
These were to be final transports of Jews from Hungary's countryside.
A July 20 transport took 1,230 Jews to Auschwitz from Rákoscsaba (then not yet part of Budapest). There were some additional deportations in the vicinity of Budapest.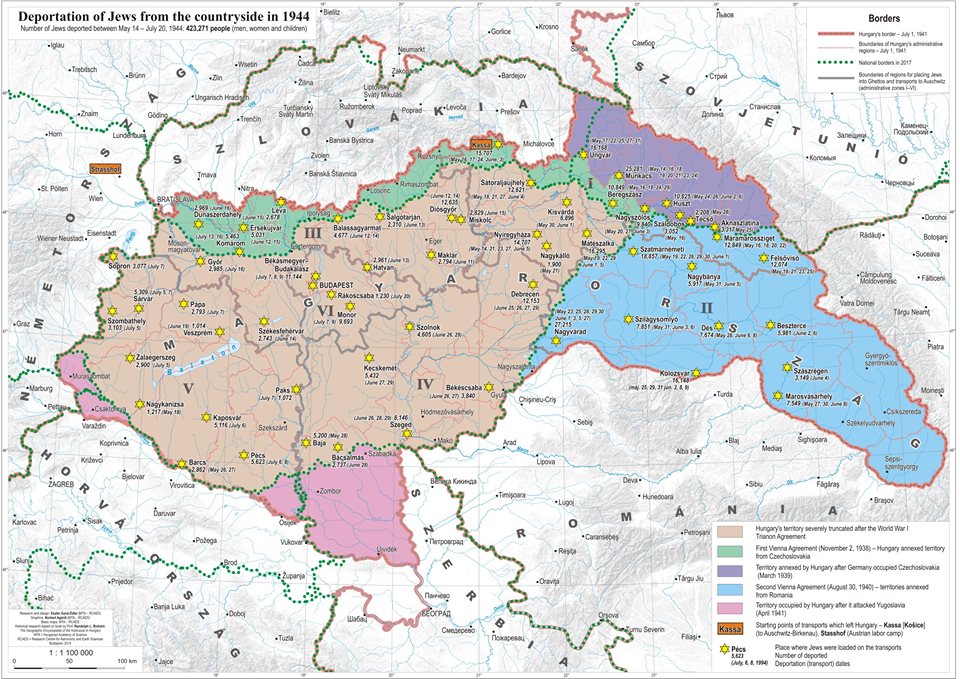 On July 6 Horthy ordered an end to the transports since it was obvious that the war was lost and also due to international pressure, in part due to George Mantello's publicizing the Auschwitz Report. This triggered unprecedented large demonstrations and Sunday masses in Switzerland about the atrocities and a major spontaneous Swiss Press campaign, despite censorship rules, with about 400 glaring headlines protesting against the barbarism. It was no longer possible for free world leaders to ignore Europe's twentieth century dark age.
Between May 14 and July 20, 1944 Horthy, the exceptional statesman, sent 423,271 Hungarian Jews to the concentration camps. (For a detailed breakdown of deportations from rural Hungary by locality in English, click here.)
May the memory of the martyrs be blessed. – Never again!