Ripost.hu is one of Hungary's bottom of the barrel political tabloids: an online publication that specializes in seedy, politically motivated character assassinations against opponents of Hungary's ruling Fidesz party. Ripost is the publication that took a photograph completely out of context, in order to insinuate that Jobbik leader Gábor is a homosexual and participates in gay orgies. Earlier this spring, Ripost targeted prominent opposition activist Márton Gulyás, publishing photos of what it claimed showed the activist using a gay dating site. This was apparently the paper's way of doing the ruling party's dirty work: discrediting and punishing Mr. Gulyás for his prominent role in the mass protests of this past April. This was too much even for one of Ripost's employees: Ádám Fekő resigned from Ripost following the attack and issued a public apology. He said that he felt compelled "to apologize for every single keystroke" at Ripost. And in fact, digging in one's personal life, especially on the issue of sexuality, is not generally thought of highly in Hungarian society. It is frowned upon by most Hungarians, regardless of political belief.
An investigative report by the Index news site, released this week, suggests that at least 97% of Ripost's advertising revenue came directly from the government and from state corporations. Ripost has managed to attract virtually no advertising from private companies. In the first 11 months of 2016, at minimum 97% of Ripost's advertising revenue–totaling 609 million forints–came from taxpayers. Index suggests that the actual proportion of revenue from taxpayers may actually be closer to 99.2%, because it was only possible to confirm that 5 million forints actually came from the private sector. As for government funds, the largest advertisers include the Prime Minister's Office, Hungary's national gaming corporation (Szerencsejáték Zrt.) and MVM Zrt., the state owned power company. Ripost.hu is believed to be a business interest of Prime Minister Viktor Orbán's wealthy political adviser, Árpád Habony.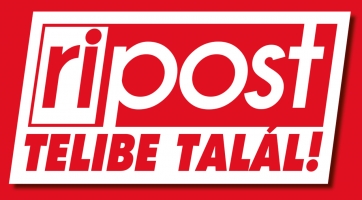 Illustration: Ripost.hu's logo and slogan
It's not surprising that private firms are not interested in advertising with the Ripost.hu tabloid. The publication has not conducted independent audits of its readership statistics, so it is difficult to get an accurate picture of the publication's reach. What the Index report seems to have uncovered is that Ripost.hu does not have much of a stable readership at all. It essentially "buys" clicks and readers, by paying to promote its articles on Facebook–some of which resembles "click bait" content. Around 6.5% of Ripost.hu's readers actually visit the website directly–this is the percentage of "regular" readers. To put that into context, here at HFP an average of 20% of our daily readers are brought here from social media websites (mainly Facebook and Twitter), while around 80%  are regular readers who visit us after they receive an email notification of a new post or who simply type in our URL directly into the browser.
It should raise some eyebrows that the Hungarian government decided to spend hundreds of millions of forints in taxpayers' money advertising on a news site that initially gave no verifiable information on its readership and general reach. Even more curious is that Ripost charges the Hungarian state significantly more per ad view (between 11 and 15 forints per view) than the private sector (2 to 2.5 forints per view).
One would think that Hungarian taxpayers are getting a rather raw deal, while business interests tied to Prime Minister Orbán's political adviser are capitalizing very handsomely.