In the 19th century this area of Canada was called Assiniboia, named after local first nations people who lived here for hundreds or perhaps even thousands of years as they claim. At this time the province belonged to the Northwest Territories. In 1905 the province joined to the Confederation of Canada and became known by the name of Saskatchewan.
Early Hungarian settlers started to arrive in this area around 1882. Most of them started farming. Anybody could buy a quarter section of land (160 acres) from the government of Canada for ten dollars. First thing they had to do is start breaking up the virgin grass lands with a horse and plow. They also had to build sod houses to live in to survive the first winter with temperatures dipping to minus 30-40 Celsius.
The Békevár community formed in 1902 comprised of early settlers who arrived from the Hungarian village of Bótrágy (Bereg county). Today Bótrágy belongs to Ukraine. One of the first things they built is a large Presbyterian church called Békevár with twin spirals that is modelled after the Great Church of Debrecen in Hungary.
Today Békevár Church is designated as a Heritage Property located in the municipality of Hazelwood. Most of the year the church is closed, but in the summer months people can rent it out for weddings and other celebrations with guests coming from all over Canada and the U.S. or even Hungary. Walking over to the adjacent cemetery you will notice most of the tombstones have Hungarian names on them.
Around this time other Hungarian communities started forming in the province with names like Esterházy, Kaposvár, Otthon. Now all of them are written without accents. "In exile the accents fall off your name" – said Sándor Márai the poet. Organizer Paul Oscar Esterházy gave his own name to the city of Esterhazy. The other Hungarian colony received its name Békevár from a Calvinist reformed protestant clergyman, Kálmán Kovácsi originally came from the Hungarian city of Debrecen. Békevár's translation is "fortress of peace".
Békevár never turned out to be a village. The anticipated CNR (Canadian National Railway) instead was built 12 kilometer to the north of here and at that time towns were built next to the railroad, so a new settlement of Kipling was born. The town owes its name to the famous writer Rudyard Kipling who passed thru here in the fall of 1907 on the way to the provincial capital city of Regina. Finally in 1909 the CNR railway station house officially opened in Kipling.
The area around  Kipling is based on an agricultural economy. The main crops are wheat, rye, oats, flax and canola. Farms also have livestock like cattle, horses and bison. Modern farms are now very large with a high degree of mechanization. The average size of farm now is 12-15 quarter section or about 1900-2400 acres. The farmers sell their crops to large National Grain Companies. Harvesting is usually done in the months of August, September and October.
Walking around the town you can still find some old Hungarian descendents understanding and speaking the old language, but they are disappearing. In 2009 I used to hold Hungarian conversation classes just for fun in the local library. My students – mostly adults – noticed, that my accent is different, then their grandparents. "Of course" – I told them – "I am from Budapest but they came from the eastern part of the country."
Now let me tell you an interesting story. The red paper clip became the modern symbol of Kipling. In 2007, Canadian blogger Kyle MacDonald successfully parlayed one red paper clip via a series of trades into a house in Kipling. The town commemorates the story with the Guinness World Record certified World's Largest Paper Clip, 15 feet tall and weighing 3043 pounds.
For more information, please read the study of the Hungarian-born historian, Martin L. Kovács: Peace and Strife – Some Facets of the History of an Early Prairie Community.
Elizabeth Vincze
(All photos by the author)
The Hungarian Free Press requested a bio from Elizabeth Vincze – here it is in her own words.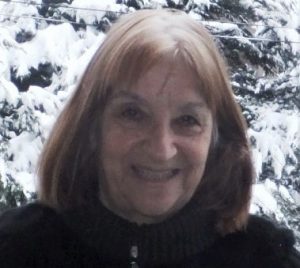 You can call me a real global citizen. Why?
I still have my original birth certificate issued in January 1946 in London, England. Both of my parents came from Hungary. My father fought on the Italian front as a Canadian soldier. They met and got married in the United Kingdom after WW2. Later we moved to Canada and lived in Vancouver for 5 years. Then in 1951 my parents decided to return to Hungary with me.
That means, I went through the Hungarian school system and didn't stop until I received a masters degree in mathematics and physics at the Eötvös Loránd University in Budapest. Instead of becoming a high school teacher I joined one of the first IT companies in Hungary and got involved in different postgraduate courses in Germany and UK. I became an instructor and software specialist of the Computer Science Education Centre in Budapest. Meanwhile I also got married and my daughter was born in Budapest.
After I met my current Hungarian-Canadian husband I continued my life in Canada from where I left when I was 5 years old. I was just adding some Canadian cities to my software career, like Halifax, Edmonton, Regina and Victoria.
In 2020, at age 74 I finally accepted an early retirement package (!) in Victoria. Oh well, it had to happen some time. So I rode off in to the sunset literally. We rolled back to Kipling Saskatchewan, which is my husband base location.