It seems that an annual summer trip to Hungary has become something of a ritual for me. Initially, now well over a decade ago, I would travel back for archival research–first for my MA thesis, then for my PhD dissertation, or for the odd conference presentation. Then as I became more involved in the country's public discourse over the past eight years, my circle of friends and colleagues grew in Budapest. Challenging times do bring people together, creating a fate community. And of course, I have family in Hungary–some quite elderly. My great aunt, who was like a grandmother to me while growing up in the nineties in Budapest, turned 89 years old this year. She is the last of my grandmother's generation and I visited her in the town of Pápa, as I do each year.
This year's trip to Budapest was informative for a few reasons. Several members of my family work for large multinational companies with offices in Budapest. They are well-educated professionals who speak at least two foreign languages, travel frequently for work and live very comfortably in the Hungarian capital. Their quality of life is comparable, if not better to what they would enjoy in a similar field here in Canada.  They travel for pleasure throughout Europe and further afield, have nice homes, have the disposable income to eat out at good restaurants and enjoy the cultural richness and dynamism of Budapest–one that is outstanding even among the largest European cities.
These family members are also highly critical of the Orbán regime. While they do perform their civic obligation and vote in elections, their approach is to make themselves as independent of, and not susceptible to the whims of the System of National Cooperation as possible. They aim to inhabit a different world altogether than that controlled by the one party state. In Budapest, if you are a professional employed by a large foreign company, it is mostly possible to do this. It's almost like living in an expat bubble.
Not everyone has the luxury of simply exiting the System of National Cooperation, whilst still choosing to live in Hungary. Journalists at HírTV and until today those working for what was left of Heti Válasz experienced this first hand. All journalists who were capable of asking questions and behaving like journalists, not propagandists, were fired from HírTV this week, as the cable news channel returned to the Fidesz fold. One should have known all along that building a free, democratic media organ on Lajos Simicska was like building a house on sand. Then this morning, we learned that Heti Válasz, which suspended print publication this spring, is now also ceasing its online publication. Dozens of conservative reporters, who until recently were staunchly supportive of the regime, are out of work. Add to this list the Mandiner news site–once a conservative forum allowing for relatively critical and open debate is increasingly just a mouthpiece of the regime. They have bills to pay and their income comes from the regime.
During chats in Hungary, I also learned that many on the right who rely on public funds for their existence and who are engaged in political discourse are fearful of a purge that seems to be well underway within Fidesz circles. There is an understanding in these circles that one can fall out of favour suddenly–all it takes is one act that calls into question's one unquestioning loyalty. Servility is the way to not only survive, but to also prosper in Hungary. It's the ability to give servile individuals more than just the basics, but in fact a good quality of life, that keeps them loyal. And besides: being outwardly servile does not mean that one cannot curse the bloody regime in the comfort of one's home, or discreetly at a coffee shop, all the while remaining a beneficiary of this regime until one day, when it all passes.
I never thought that my contemporaries would draw on the survival and coping mechanisms used during the Kádár regime, but this is in fact what is happening in Hungary today. Comparatively speaking, Hungary was a livable country for most residents during the last two decades of the Kádár regime. The formula was to cede your place as a citizen in the country's political discourse, tolerate the one party state, feign a minimum of loyalty and then let off steam in private or whilst watching the sort of political satire that the Kádár regime cleverly tolerated. The vast majority of Hungarians chose this approach. A small minority did not, and they spoke out in various ways: through socio-economic initiatives, through Samizdat publications or through protests.
It would seem that the conditions for the collapse of the regime are not present today whatsoever. People working in the foreign-owned private sector can mostly ignore the System of National Cooperation. People working in essential, low-paying jobs in both the Hungarian private and public sectors are unlikely to be dismissed for their political leanings or lack of loyalty simply as a result of an acute labour shortage. This is now so severe, that while waiting for a train at Keleti pályaudvar in Budapest, the PA system advertised the many available careers every few minutes, right along departing and arriving trains. Travel the bus, tram or metro in Budapest, and you will see the endless calls for bus and tram drivers–and promises of a good wage and benefits.
The people who are in a truly precarious state are those who work in fields of culture, research and media–all of which are heavily reliant on public funds to survive and are therefore vulnerable.
This summer, Budapest was bustling with tourists oblivious to, or uninterested in the state of democracy–probably understandable, when the Hungarian capital offers entertainment, attractions, culture and gastronomy that rivals that of any European capital. Even most Hungarians have opted to live their lives as independently of the regime as possible and for some, it is very much possible to live well in Budapest, whilst being divorced from the System of National Cooperation.
Meanwhile, the opposition (both the left and the right) is perhaps more demoralized than I have ever seen it. Full paralysis has set in. For the left, it may serve as modest consolation to know that for the moment, they are not the regime's main target. Conservatives once fully supportive of Fidesz, but now willing to ask questions and challenge, are in the line of fire.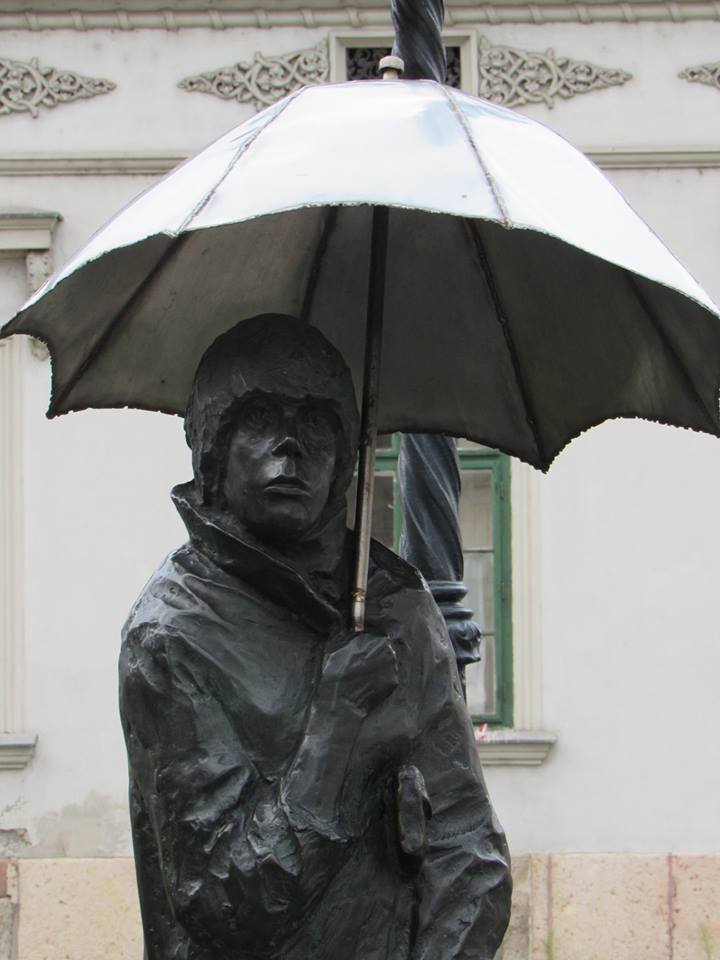 (Photo: When it rains, it pours. A statue in Óbuda. Source: Christopher Adam)