The Institute of Slavic, East European, and Eurasian Studies (ISEEES) presented Paul Lendvai at the University of California at Berkeley on March 22 at Moses Hall.
The title of his presentation was: "Orbán Regime: Splitting the EU and Leading a New East European Bloc?"
¤¤¤
Through a masterly and cynical manipulation of ethnic nationalism, and deep-rooted corruption, Prime Minister Orbán has exploited successive electoral victories to build a closely knit and super-rich oligarchy. More than any other EU leader, he wields undisputed power over his people.
Orbán's ambitions are far-reaching. Hailed by governments and far-right politicians as the champion of a new anti-Brussels nationalism, his ruthless crackdown on refugees, his open break with normative values and his undisguised admiration for Presidents Putin and Trump pose a formidable challenge to the survival of liberal democracy in a divided Europe.
Mining exclusive documents and interviews, celebrated journalist Paul Lendvai sketches the extraordinary rise of Orbán, an erstwhile anti-communist rebel turned populist autocrat. His compelling portrait reveals a man with unfettered power.
¤¤¤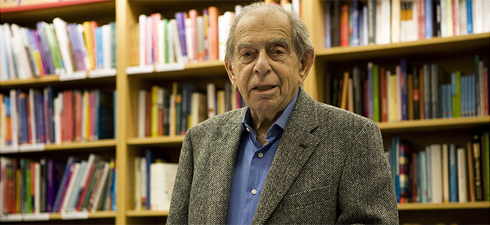 Mr. Lendvai is 88 years old and I heard about him decades ago when English editions of his books started to appear in the US. Lendvai was born in Budapest to Jewish parents. He survived the Holocaust and became a journalist working for the Communist newspaper Szabad Nép. In 1957 he left Hungary and moved to Austria where he became a naturalized citizen. There were accusations that he cooperated with the Communist secret service but no credible proof has been presented.
In Austria he was associated with Die Presse and Der Standard. He also wrote for the The Financial Times, contributed to The Economist and worked with various radio stations. Lendvai correctly predicted in 2011 that Viktor Orbán would establish an authoritarian government; today it is called an "illiberal" state. His latest book is Orbán, Europe's New Strongman.
It is my understanding that Mr. Lendvai is not a supporter of Viktor Orbán's regime. I mention this, because in the past, Hungarian diplomats often showed up at Berkeley events and, as we reported earlier, they verbally attack and attempt to discredit the speaker. (Read more about the incident here.)
György Lázár