A number of readers noticed Sunday evening that HFP had been hacked on two separate occasions. In both cases, György Lázár's most recent article on opposition to Russian President Vladimir Putin among some Hungarians was deleted and replaced with a note from a hacker, using a pseudonym which I will not repeat here, so as to not give him/her added publicity. With some research and help from our hosting company, I was able to restore Mr. Lázár's article. Then an hour later, our site was hacked once again, and the article in question was deleted a second time. After doing a little research into this specific hacker or group, I found that the culprits are likely based in Kurdistan and are affiliated with the Peshmerga, which has been fighting the Islamic State (ISIS). The technical term for this form of hacking is a Cross-Site Scripting (XSS) attack.
HFP was not the only news site hacked by this group in the past couple of days. A Hungarian sports news site focusing on handball, called Kézilabda live, was hacked, as were several Romanian political news sites.
We have since installed a new security mechanism on HFP to hopefully help prevent future attacks as best we can. The new application offers a firewall of sorts and keeps track of unsuccessful hacking attempts against HFP. The statistics produced over the course of the last 12 hours are quite startling. There have been a total of 169 preempted hacking attempts against our site since Sunday evening. See the breakdown below: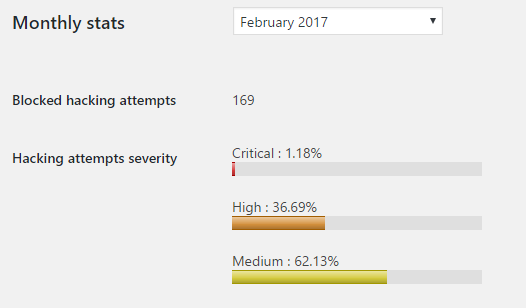 István Lovas and the trolls
While I am updating readers on the status of HFP, I will note one additional change implemented a few days ago. Moving forward, all comments will have to wait in a moderation queue before they are published, including comments submitted from readers/users in good standing who have previously had their feedback published underneath our articles. There are a few professional trolls based in Hungary and likely associated with the governing Fidesz party, who have set their sights on HFP. We believe that one of the trolls is either István Lovas–a prominent far-right Hungarian publicist and a staunch supporter of both President Putin and his ally Prime Minister Viktor Orbán–or a friend/colleague of Mr. Lovas who uses a handful of IP addresses near where the publicist lives just west of Budapest, by the town of Bicske, to post absurd and inflammatory comments on HFP under various pseudonyms.
In many of these comments, the troll pretends to be Jewish and makes off-topic, outlandish and hateful comments against Hungarians. In other comments, this same troll has called for extreme violence against Hungarian politicians, including Jobbik leader Gábor Vona and Prime Minister Viktor Orbán. This troll has targeted both the Hungarian Free Press, as well as the Hungarian Spectrum. Mr. Lovas, seemingly scandalized by the activities of this troll who alleges to be a Jew, then uses these outlandish comments in an attempt to discredit both Éva Balogh's site, as well as mine and quotes them in his own articles, often within a day of the original comment appearing on our sites. Mr. Lovas must read the comments on both of our sites so closely and frequently that he finds these outlandish comments, which seem to illustrate his point so perfectly, within mere hours of them appearing here. For an example of Mr. Lovas' methods, please see this page.
It is worth noting that Mr. Lovas' outraged reactions against this troll also appear on the prominent, pro-Fidesz 888.hu news site, under the pseudonym Irány Imam. And to make sure that we are aware that HFP has been quoted in 888.hu, the same troll who wrote the outlandish comments in the first place linked in Mr. Lovas' article in a new comment appearing on our site.
The troll writes using a handful of pseudonyms on both Éva Balogh's blog as well as on mine, including: Donbass, Marmara, Arthur Klein, Rivarol, Marble, Schulzberger and Doskozil. Under the guise of these pseudonyms, an individual using around three IP addresses–all from the same region within western Hungary near the town of Bicske and also in neighbouring Komárom-Esztergom county–has sent in over 60 comments to HFP and about the same number to Hungarian Spectrum since November 2016. The leitmotif is this: the allegedly Jewish reader labels every Hungarian as an anti-Semite, regardless of the topic of the actual article. He has a one track mind. The one exception is actually one of this troll's first comments in the Hungarian Free Press. In this we discover that the troll, who writes to us from just outside of Bicske–in the village of Tarján–also holds American citizenship and voted for Donald Trump in the 2016 elections. That must have been a candid moment.
The 71 year old István Lovas once lived and studied in both California and in Montreal, Canada, at McGill University. He first moved to Canada in 1976, after marrying a Canadian. According to information appearing in the Élet és Irodalom weekly in 2001 (historian János Kenedi wrote an in-depth four part series on Mr. Lovas and his past activities), Mr. Lovas returned to Hungary in 1990, with both American and Canadian citizenship. In this piece, the following quoted lines are believed to have been written by Mr. Lovas, but under a pseudonym: "The Hungarian right is attacked in the most deceitful and low-down manner, without exception, by apostate Jews. Anyone can verify this." (To read this part of Mr. Kenedi's 2001 study, click on this link, which opens a Word document.)
Hungarians will see much more of Mr. Lovas in the coming weeks and months. Echo TV relaunched a political television show featuring the Fidesz publicist alongside András Bencsik, editor of the far-right Demokrata weekly, Fidesz co-founder Zsolt Bayer and Gergely Huth of the Pesti Srácok news site.
Mr. Lovas may respond to this article, in either the form of a comment or a letter to the editor, and we will endeavour to publish it.